In this article, we provided the commonly used list of components and devices commonly used in PLC (Programmable Logic Controller).
List of Components in PLC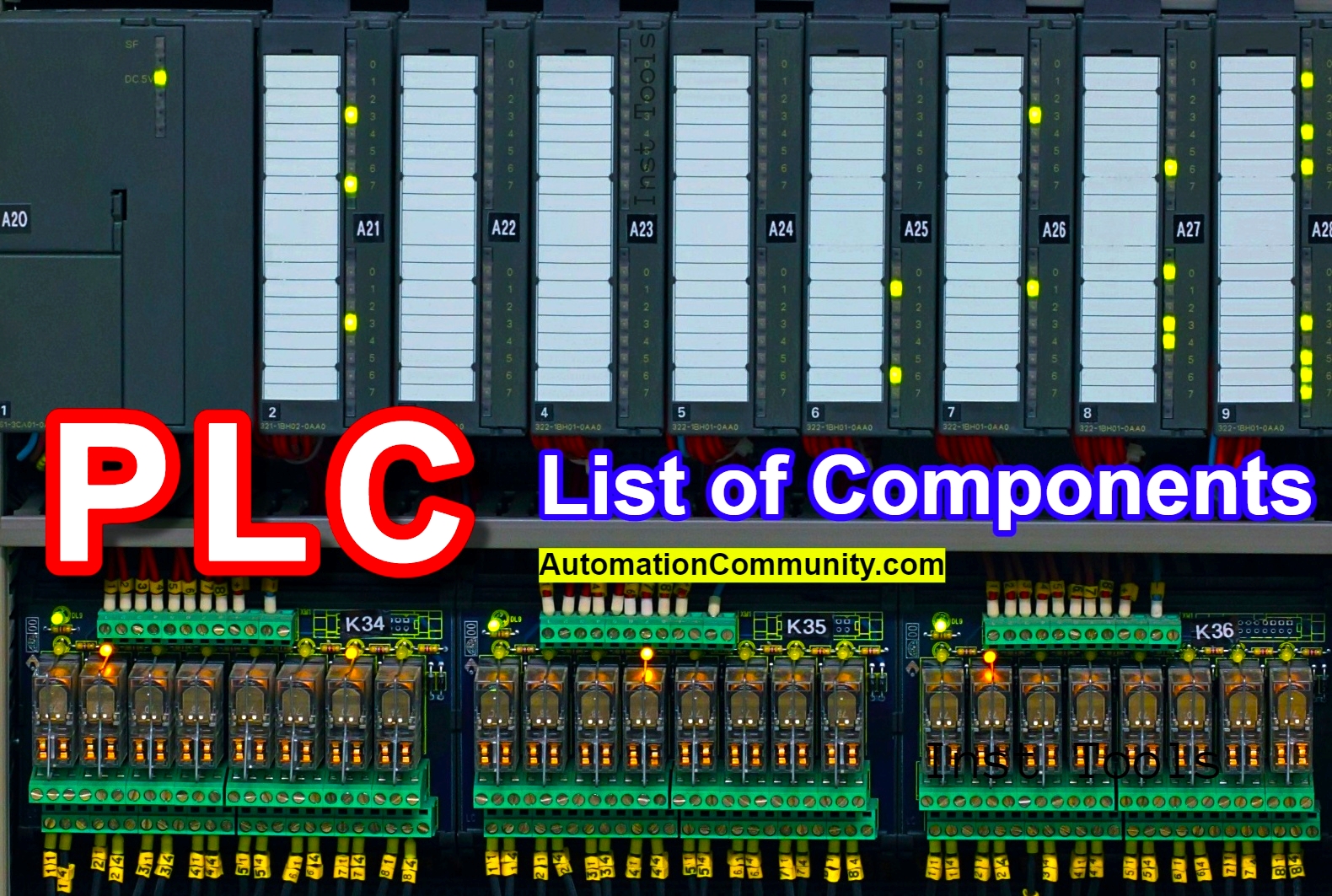 Here are the PLC parts and devices mentioned below.
Processor or CPU (Central Processing Unit)
Memory modules (RAM and ROM) (Most PLCs have them inbuilt into the CPU)
Analog Input modules
Digital Input modules
Analog Output modules
Digital Output modules
Communication modules (Ethernet, RS-232, RS-485, etc.)
Power supply module
Programming software
Programming cables
Programming devices (HMI, handheld programmers, etc.)
Terminal blocks
Mounting racks or bases
I/O connectors
Expansion modules
Counters (Hardware/Software)
Timers (Hardware/Software)
High-speed counters and timers (Hardware/Software)
Analog signal converters
Proportional-Integral-Derivative (PID) controllers
Motion controllers
Data logging modules
Safety modules
Redundant processors and power supplies
Battery backup modules
Remote I/O modules
Distributed I/O modules
Human-Machine Interface (HMI) devices
Real-time clock modules
Barcode scanners
RFID (Radio-Frequency Identification) readers
Vision sensors
Servo drives and motors
Stepper drives and motors
Linear encoders
Safety relays
Push buttons and indicator lights
Limit switches
Temperature sensors
Signal conditioners
Signal isolators
Operator panels
Industrial PC
Industrial Ethernet switches
Encoders
Ethernet switches
Solid-state relays
Isolation amplifiers
Barriers
Cooling Fans
Cabinet
Missed anything? Share with us through the below comments.
Read Next: